Capitalist climate cola, originally uploaded by oxpeaceart.
It's the real thing.
This picture is superimposed over the now well-known 'hockey stick' graph showing temperature compared to CO2 concerntrations.
The hockey stick graph superimposed on the image here (here's an original version of the chart) has been used by climatologists to underscore their claims that recent temperatures on earth are significantly higher than in past centuries. It's among the most compeling arguments in support of global warming.
But it's not without its detractors. Some have argued that the graph is faulty, phoney and misleading. Supporters of the research, in turn, have charged that those who are against it have been funded in part by oil compnies.
According to Michael Mann, one of the developers of the original research, "Ross Gelbspan—he's a former editor of Boston Globe—has written two books on the connections between industry funding, in particular funding by ExxonMobil, and these climate contrarians. The vast majority of them appear to receive funding from industry sources."
For background and to inform yourself on this debate, here are some sources for information on this debate:
1. The wikipedia entry discussing the issues surrounding the graph as it was published.
2. Ain interview on Mother Jones magazine with Michael Mann, on of the developers of this data and a founder of realclimate.org.
3. This article which questions the accuracy of the hockey stick graph
4. Another article questioning the hockey stick data
5. A detailed, annotated response to the criticism of this data posted on realclimate.org
FYI – Here's the original hockey stick graph: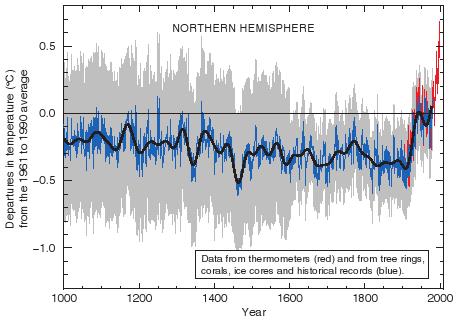 technorati tags:globalwarming, environment, 21stcenturycitizen