Tree hugger brings us news on new twist on local food, an underground farm in Tokyo. It's main purpose is to provide training for Japanese students interested in learning about farming.
It reminds me of the Winter I grew organic tomatoes in my basement under lights. I calculated that it cost me $25 a month for electricity, lights, soil, etc — but I had fresh, organic tomatoes all Winter.
For more info, see also this article: Tokyo: Underground High Tech Urban Organic Farming. There are a lots of pictures and it will give you a good idea of what it's all about.
Here's a layout of the underground farm: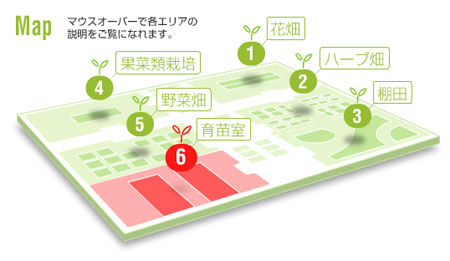 And on the map above,
Room 1: Flower field. White LEDs are used. Plant cultivation by RGB LED. Metal halids spotlights are used.
Room 2: Herb field. Metal halids spotlights are used.
Room 3: Shelf rice field. Metal halids lamps and high-pressure sodium lamps are used. It explains that it is possible to do by three crops a year.
Room 4: Fruit/vegetable field. Cultivation of tomato by hydroponics. 3 wavelength, 5000 deg. K, High-frequency fluorescent lamp.
Room 5: Vegetable field. Metal halids spotlights are used.
Room 6: Seedling room. Lettuces are being grown with fluorescent lamps. 2xFour steps cultivation bed.
And check out these fresh, organic tomatoes: