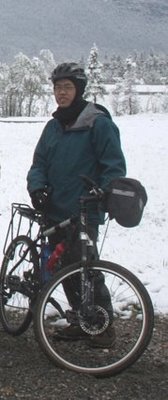 Steve Loo is a passionate guy.
When he heard about Wheels for Change, a 1000 kilometer bike ride across British Columbia in Western Canada to raise awareness of global climate change, it seemed like a perfect fit for him. He had vacation time planned already, so he decided to join the ride.
He had already helped organize a 140 km bike ride to the Trails to Sustainability Conference earlier this year, and in 2005 he rode from Calgary to Yorkton (approximately 1200 km) to, in his words, "do environmental and social justice presentations and workshops in schools, community halls, churches and people's living rooms."
Not bad for a college student who's passionate about climate change.
One of the differences between being concerned about climate change and actually doing something about it is taking action. Steve takes action.
According to Steve, "I am part of the problem and therefore must be part of the change."
Steve's passion for the environment really awoke after a hike in the desert in Australia a few years ago.
"When your life depends on all the water you're carrying on your back, you gain a whole new perspective on this liquid that most people take for granted every day. I also learned a great deal about the importance of planning and preparation. I finished my long dry hike with roughly 200 mL of water and one extremely dry throat. I quickly rethought my attitudes and behaviors towards water.


—

After returning to Calgary, during a process over 3 or 4 years, I had to rethink much of my life – not just water consumption, but also transportation, food, clothes, media, government and our education system. As a result, it gradually changed to one involving better health and environment, greater creative and organizational skills, and more critical thinking."
The only way we can collectively address the challenges we face together, is for each of us to change as individuals. Our values have to change first, and then our behaviors will follow.
For Steve, this has meant some personal changes as well:
"For example, now I am:

1. Using my bike as my main form of transportation including winter time (I still drive once a week through carsharing)

2. Using less paper (in fact, I haven't bought any new paper in 3 years);

3. Having not just shorter showers but also having staggered and fewer showers; recently we bought a dual flush toilet. Woohoo!

4. Creating my own artistic notebooks reusing old materials

5. Becoming more integrated with my local economy – not just local foods but also locally made products and services (yay Calgary Dollars)

6. Organizing and promoting documentary screenings focusing on social justice and environmental issues, and showcasing local activists working on local causes

7. Gardening (with mixed success but still trying)

8. Questioning and challenging our politicians, journalists, teachers and other "professionals" (along with fellow students) regarding government policy and media portrayal of all the issues

9. Encouraging my friends to take up more sustainable lifestyles while emphasizing that this is progression rather than perfection.
Steve is changing things by changing his own behaviors and by working to encourage others to change theirs as well. He's talking about his concerns and he's taking action.
in this way, Steve Loo is changing the world — one person at a time.
Are you?
***
Enjoy this post? Please subscribe to our feed! Or, get updates by Email


Stumble this post!