Here's the first installment of the Blog Carnival of Green Living! We have some great posts from a great group of blogs that are the perfect way to kick off the first edition of the Carnival of Green Living –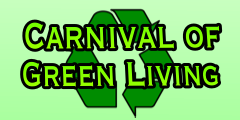 I'm pretty excited because this batch of posts contains some of my favorite blogs as well as some that were new to me.
One of my favorite writers recently has been Brian Angliss from Scholars and Rogues who brings us this post on Decarbonizing the carbon economy posted at Scholars and Rogues.
Another blogger I've been following is Tiffany Washko who writes some great pieces on family living — here's a piece from her on 30 Ways to Go Green with Your Family posted at Natural Family Living Blog.
Continuing with another of the bloggers I've been following recently, Tracy from ecostreet presents Embrace green motherhood: breastfeed posted at EcoStreet. (You may have seen Tracy commenting on our posts here at 21st Century Citizen — she always adds to the conversation.)
Adam from Seacoast NRG asks the question Is burning wood really carbon neutral? posted at Seacoast NRG.
ResponsibleChina continues their discussion on environmental practices in China with a great post on Bamboo bicycles made from renewable materials posted at ResponsibleChina.com.
Aparna brings us information on a natural Indian health remedy in Drumsticks for health posted at Beauty & Personality Grooming.
John Hill presents a thoughtful, well-written post entitled What Can We Do About Climate Change? posted at Universe Of Success.
Suzanne helps us see the value in picking blueberries locally in her Works for Me Wednesday: organic blueberries posted at :: adventures in daily living ::.
Career Counselor discusses how to incorporate your passion for the environment into a career in It's Not Easy Being Green? posted at ask the CareerCounselor.
Expat Chef shares a great recipe that will be useful to local food fans in Roasted Ratatouille — No Rodents posted at The Expatriate's Kitchen.
Millionaire Mommy Next Door provides interesting insight into daily living with Some Fast Food For Thought posted at Millionaire Mommy Next Door.
I hope you'll take a few minutes to review some of these great posts. All these writers have something to say and I'm glad they chose to share it with us.
We'll be back next week with another round of postings.
To the bloggers who contributed posts for the carnival — first of all, Thanks!
Also, if you contributed a post then please make sure you submit this post here to the various social media sites you work with — like reddit, stumbleupon, delicious, etc.
If you contributed a post and it isn't here, it's because we had waaay to many posts for a single carnival entry and we'll be publishing them next Wednesday. We felt it was better to make sure there weren't so many posts that each one didn't get the attention it deserved.
If submissions continue at this rate, we may move this to weekly.
Finally, we hope you also put a post on your site pointing back to this post. If you do, feel free to use the Carnival of Green Living logo at the top of this post.
Thanks again to everyone and thanks for reading!