Here's the second installment of the Blog Carnival of Green Living! We have some really nice posts from a great group of blogs that are the perfect follow-up to our blockbuster first edition!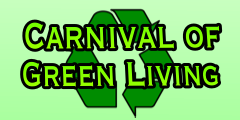 The first entry this week comes from one of my favorite green blogs, Lighter Footsteps. Their focus is on the individual and how they can reduce the environmental impact they make. This week, they're presenting Lighter Footstep – Switch from Detergents to Natural Soap posted at Lighter Footstep.
One of my other favorites, is the Aussie blog A New Green Earth. It's written by artist Winsome Gunning and I love both her art and her writing. This week she brings us Are You a Carbon Fatty? posted at A New Green Earth.
Another well-written Aussie blog, Nourishedmagazine.com.au, brings us this great post on Clean and Green: Natural Cleaning Formulas.
We also had our first submission from a cartoonist this week. The blog Welcome To The Future http://www.wttf.org presents Radiation Suits posted at WTTF: Welcome to the Future.
Frugal Panda, a blog that's new to me, brings us a well-written and detailed post on saving water (and saving money!) with How to Save Money with Xeriscaping posted at Frugal Panda.
Here's an interesting post from "eco-friendly bed and breakfast innkeeper in Montana": The Dog and Pony Show posted at INNside Innkeeping in Montana. There's good info there on organic pet foods, for those of you with dogs.
Stretch Mark Mama presents a way to let kids have some fun and beat the Summer heat with her short and practical post Sustainable Squirt Guns posted at Stretch Mark Mama.
Renata Vincoletto shows us ways to recycle left-over computer parts at Geeks United! It's time to recycle! posted at > systemcall dot org.
Finally, we have two submissions that have something in common. Both are from bloggers who are waking up and re-evaluating their commitment and understanding of how to live in a less impactful way.
The first, is a short, soul-searching post by marguerite manteau-rao Converse ad posted at La Marguerite. Not a long post, but nicely written.
Finally, No Credit Needed discusses a bit about E85 flex-fuel (which generated some good reader discussions on biofuels in general) with Potentially I Could Be An Accidental Environmentalist posted at No Credit Needed.
I hope you'll take a few minutes to review some of these great posts. All these writers have something to say and I'm glad they chose to share it with us.
We'll be back next week with another round of postings!