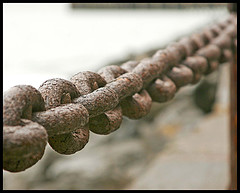 Sometimes readers send me links. I think it's great because I get to know what interests people. Here are some recent ones:
Our twitter follower bythebayou @replied me a link to Co-op America. They look interesting — I like that they encourage people to take action.
Another twitter follower monkchips, sent this link on saving energy by turning computers off at night! He recently learned that in Japan, insurance companies offer lower rates to companies that turn their servers off in the evening, since the believe it lowers the risk of fires. He describes it as "a commitment to not 24/7, not follow the Sun, not have uptime for its own sake."
Finally, regular reader jhimm e-mailed me a link to a rant of his on some current Chicago news — the recent proposals to add a 10 – 25 cent tax to all bottled water sales. Let's just say jhimm is a bit upset by the news. We've been discussing the role of government (see here and here) in changing people's behaviors, so thanks jhimm for adding to the conversation.
If you run across something that's big news where you are or that you think we should be covering, let us know through a comment on the site or send us an e-mail at '21c AT 21st-century-citizen.com'.