Here's the third installment of the Blog Carnival of Green Living! As usual, we have some great blog posts for your reading pleasure — and you might learn something too!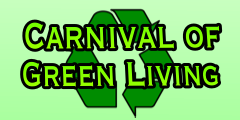 One of the common threads in this week's set of articles is a topic that I think is under-served both the corporate media as well as many 'green' bloggers — reducing your consumption. If you want to reduce your impact on the world the easiest way is to simply consume less.
To drive this point home, here's a thought-provoking post from Millionaire Mommy Next Door on a family decision not to make a major purchase: Memories are made of the things we DO, not the things we BUY posted at Millionaire Mommy Next Door.
In addition to reducing your impact on the planet, reducing what you consume can have a direct impact on your financial security and success, as laid out by Andy in this post: How to Determine Financial Success posted at moneywalks.
In one of the best 'list' posts I've seen recently, Sagar Satapathy presents some great tips to reduce waste in your office with: Working Green: 50 Tips To Reduce Your Office's Waste posted at Bootstraper.
What is required to call food 'organic'? Jimson Lee explores the answer to this question in Organic This, Organic That – What Exactly is "Organic" Food? posted at Speedendurance.com.
In a straight, from-the-hip post outlining his personal feelings toward being a vegetarian, James D. Brausch presents Why I'm Not A Vegetarian posted at Weight Loss Dude. (I know many of our readers are vegetarian and I felt this post would help people understand a different point of view toward this important subject.)
As the overall population ages, there is a growing need to understand how to integrate older people into the workforce. Alvaro Fernandez presents us with this well-written post on Training the Aging Workforce posted at Brain Fitness Blog.
Here's a short post from Leon Gettler reflecting on Pepsi's recent announcement that their bottled water was really nothing more than normal tap water: The bottled water lie posted at Sox First.
And finally, here are two posts that examine the use of medicinal herbs as a more natural approach to healing:
Aparna presenting Medicinal uses of Bael (Bilva) posted at Beauty and Personality Grooming, and Lucynda Riley presenting Swollen Lymph Nodes in the groin posted at Quietly into the Night.
I hope you'll take a few minutes to review some of these great posts. All these writers have something to say and I'm glad they chose to share it with us.
We'll be back next week with another round of postings!