Here's the fourth installment of the Carnival of Green Living! As usual, we have some great blog posts for your reading pleasure — and you might learn something too!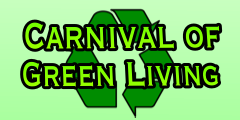 To kick things off, here's one of my favorite bloggers, April Kerr, with a post from her natural health blog, Natural Health Remedies with How a Simple Kitchen Product Revitalized My Hair in 30 Minutes.
ResponsibleChina brings us her unique view of China's environmental issues with Total Recalls in Toyland or Mattel's Hell posted at ResponsibleChina.com.
marguerite manteau-rao describes a simpler set of values in Garbage Society posted at La Marguerite. Marguerite is a wonderful writer, I hope you'll give her a read.
Another wonderful blogger, Tiffany Washko, brings us more family-oriented insights with Sustainable and Stylish Furniture posted at Natural Family Living Blog.
Stephanie shares some innovative ways to reduce our consumption by improvising solutions for household problems with Stop the Ride!: More Repurpose, Recycle TT#10 posted at Stop the Ride!.
Expat Chef is always a good read — here's her Thursday Thirteen: Random Rants posted at The Expatriate's Kitchen.
Stretch Mark Mama brings wisdom from her family experiences with They Call Me Mellow Yellow posted at Stretch Mark Mama.
confess mail shares the inner concerns of one of their anonymous readers with I don't believe places will be around long enough for me to see… posted at ConfessMail.
Isabelle Boulay of Medopedia shares insights on healthy living with Anthocyanins in Purple, Blue and Red Foods Fight Colon Cancer.
Amanda Herrington shares some simple, useful tips on improving our health and lifestyle with IT'S EASY GETTING GREEN | Health Sundae – Your daily scoop of health, fitness, and nutrition tips posted at healthsundae.com.
Wenchypoo reviews the book Healthy At 100 in this short but insightful post Book Review: Healthy At 100 posted at Wisdom From Wenchypoo's Mental Wastebasket.
I hope you'll take a few minutes to review some of these great posts. All these writers have something to say and I'm glad they chose to share it with us.
We'll be back next week with another round of postings!
***
Enjoy this post? Please subscribe to our feed! Or, get updates by Email
***