Save to del.icio.us — tags energy blackgoogle greenIT environment
Add to Stumbleupon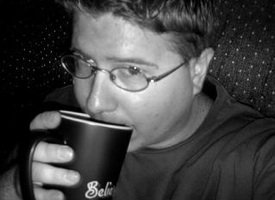 Black is the New Green.
At least, that's the message of a movement sometimes referred to as Black Google.
The idea first appeared in a January 20th blog post by Mark Ontkush, where he examines how much energy could potentially be saved if Google's background was black instead of white.
His findings? If Google, and only Google, were to change their background color to black, the world could save somewhere around 3,000 Megawatt-hours per year!
The post eventually rose to the top of Digg, and was followed up with another, and more complete, article that explains the science and the numbers behind the
idea.
How Does It Work?
Basically, computer monitors, especially the big clunky CRT monitors that take up most of your desk, consume more energy when the screen is white than when the screen is black. This has been shown to be true of CRT's, LCD's, and plasma displays, although the different technologies vary in power consumption.
As Ontkush points out, the savings is "a goodly amount of energy and dollars for changing a few color codes."
So Why Aren't All Websites Black?
So why don't web designers just do it and save us all that energy and money? It's been shown that people will spend more time at a site done up in warm and welcoming colors than they will one that is primarily dark. What it comes down to is changing peoples' expectations about how their screen should look.
Adjusting peoples' expectations is always a difficult thing, but what if we began in the office instead of on he web? In the world of corporate and government organizations, where most of us sit at least 40 hours a week, we use the computer on 'their' terms. What would happen if these organizations simply started defaulting the screen to black instead of white?
What You Can Do NOW.
So what do we do while we're waiting for the corporate IT guru's to make our screens more environmentally friendly? We can begin changing our own expectations. As with anything habit forming, we're best off starting small. Several alternative Google search pages use Google's search technology on a dark screen. Personalized search site, Blacklys.com, even offers a Firefox search add-on.
Social Networking sites now offer the ability change your preferences; why not change your color scheme? Sites like Twitter and MySpace, and Facebook actually encourage customization.
These are little things when we compare our impact to that of Google, but little things add up. The only way to save the energy, the money, and the environmental impact, is if we each make the choice.
Alternative Google search sites:
[via ecoIron blog]

Next Actions: