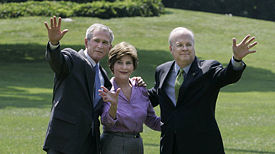 It seems obvious that politics play a role in society's response to big environmental issues. America's response to Global Warming, for example, has been dictated by its political leaders to a great extent. Laws and regulations regarding pollution, auto emissions, treaties, carbon taxes — these are all things that are put in place by governments.
But yet, few blogs that are discuss environmental issues discuss politics. Why is that?
Many political blogs discuss environmental issues, but for some reason environmental blogs don't usually discuss political issues.
I've seen some blog posts encouraging people to vote as one of their responses to environmental issues, but I've not seen much in terms of telling people how to vote – or who to vote for.
So I'd like to ask our readers — should we discuss political issues here at 21st Century Citizen?
[poll=5]
And while we're asking, please let us know wht your personal political leanings are (if you're comfortable telling us). It helps us to know roughly how many people we'll offend — because no matter what we discuss, we'll get some people upset.
[poll=6]
Of course, please expand on your answers and share your thoughts in the comments.