Save to del.icio.us — tags government environment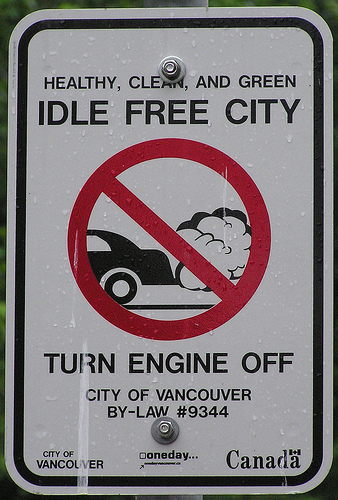 This sign is from the city of Vancouver in British Columbia and it's purpose is to inform motorists that letting their cars idle is against the law and punishable by a fine of $50 to $100.
Vancouver's "Motor Vehicle Noise and Emission Abatement By-Law No. 9344″ [PDF] went into effect in Spring of this year after being adopted in July, 2006.
Here are some details:
"2.7 A person must not cause or permit a motor vehicle to idle:
(a) for more than three consecutive minutes in a 60 minute period; or
(b) while unattended and unlocked.

—

The City's stated goals for the bylaw are to:

protect air quality
reduce greenhouse gas emissions
reduce urban noise
reduce vehicle theft
save money on fuel.


The website Trans-Talk has details on how it's been going, along with some good reference information other towns in Canada (and even some in the US) that have similar laws.
What do you think? Should we push to change our laws to force behaviors that are good for the environment? Or should government stay off our backs and allow people to do what they want?
Next Actions: