Save to del.icio.us — tags freecycle recycle environment
Add to Stumbleupon
About 'freecycling' and The Freecycle Network
Freeycling is a worldwide grassroots movement of people banding together to recycle items by giving them away for free.
While there are a number of different freecycling groups around the world, the largest and oldest is The Freecycle Network, sometimes called TFN. TFN has groups all across America and around the world, including active groups in France, Australia and Canada.
The idea is simple. If you have something you want to get rid of, it's better to give it to someone else that it is to dump it in a landfill. And if you need to buy something, freecycling gives you an opportunity to get it for free — which not only saves you money, it reduces your environmental impact since you consume less.
How to Join In
Joining freecycle is easy and will save you money. Here's how:
1. First, go to freecycle.org and enter the local area where you live.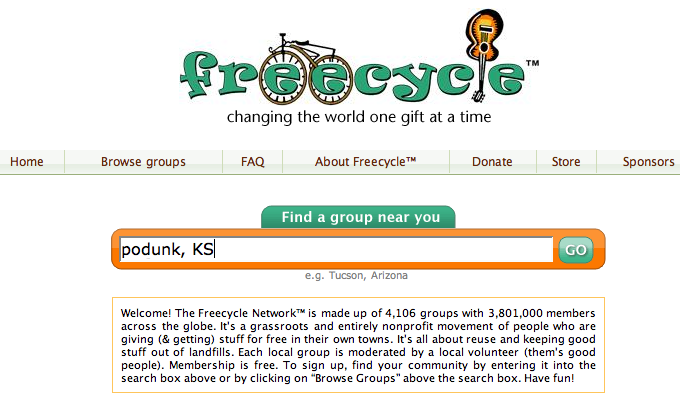 2. You'll be presented with a list of towns near you that have Freecycle groups. If you don't see one close, you can create one yourself.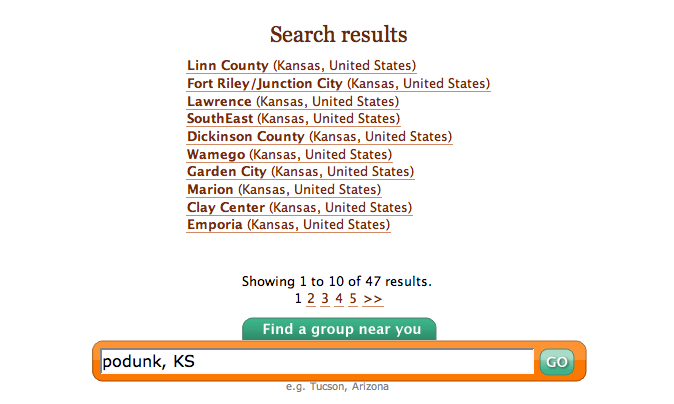 You should check out a few different groups — the one closest to you may have only a few members while one a bit further away may be much busier. For example, one near me had only 5 recent offers while another had over 100. I joined both.
The Freecycle Network runs on Yahoo Groups currently, so you'll need a Yahoo id to join.
3. You should review each group's page and read the rules for that group, then join.
After you select a group to view, you'll be presented with the Yahoo page for that group. The page will tell you how many members the group has as well as how many new posts there have been in the last 7 days. Here's an example: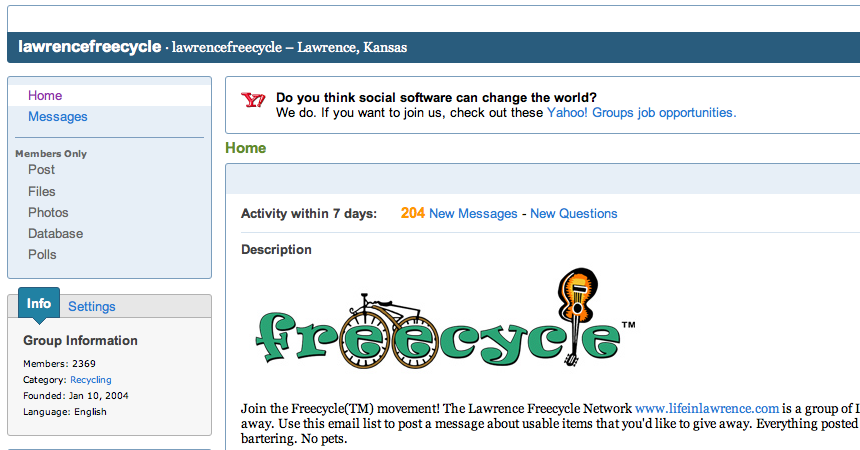 One of the other things on this page you should read are the rules for the group. The Freecycle Network group has a US-based headquarters group that establishes a set of rules each group must follow — or risk losing being kicked out of The Freecycle Network. These rules are generally common sense anyway and, in most cases, can be modified by local groups to fit what the local members want.
For example, in the group we picked above, here are the rules (taken from the page shown above):
Join the Freecycle(TM) movement! The Lawrence Freecycle Network www.lifeinlawrence.com is a group of Larryville residents who want to "recycle" that special something rather than throw it away. Use this email list to post a message about usable items that you'd like to give away. Everything posted must be FREE and legal. No politics, religion, advertising or spam. No trading or bartering. No pets.

Lawrence Freecycle serves the Lawrence, Kansas area and people living in neighboring towns who are willing to travel to pick up items.

This group is part of The Freecycle Network, a nonprofit organization and a movement of people interested in keeping good stuff out of landfills. Check out freecycle.org for other cities and info on the movement.
As you can see, the rules aren't onerous and there are good reasons for them. They're basically meant to keep out people trying to sell items or who want to send spam to the group's members.
Some local groups allow pets to be offered to the group, and some don't. (I saw one group with a post offering a full-blooded Golden Retriever because its owners both had jobs and couldn't take care of it.) Other groups don't allow pets due to concerns that people may take the pets and sell them for medical research, use them for gaming/fighting, or abuse them in other ways.
To join, you simply click on the 'Join this Group' button on the page. This will send your request to the moderators of the local group who will then respond and approve your request. In my case, I joined 2 groups — the first responded in about 10 minutes and the second took about an hour.
Once you've joined the group it's like interacting with any other Yahoo group. You will receive e-mails (either individual e-mails or a once a day summary) whenever one of the group members posts an item and you can go to the group's page and review old items posted.
So that's it! You're now a member of a fast-growing, world wide recycling movement! Great work!
Other Options
In addition to The Freecycle Network, there are other similar groups. Among them are FreeSharing.org, Sharing is Giving, and FreeCycleAmerica.
Next Actions: