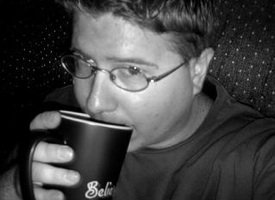 I write about the environment a lot. Mostly, it's because I have a lot to say about environmental issues.
Sometimes it's because I'm scared. Not really scared like the apocalypse is coming, although I wonder about that sometimes. It's more like we're all about to graduate from high school and we're faced with the decision of what to do with the rest of our lives.
Regardless of your stance on the issue of climate change, I think that it's pretty apparent that we can't go on living the way we are now. There's not enough oil in the ground, or trees or water either.
It's just like in high school when the final bell rang and the doors closed behind us for the last time. We always knew that there were real problems and responsibilities out there. It's just that now we were out there with them.
Like any graduate, we've got some decisions to make about the rest of our lives. Of course, any time you throw "decision" in with "rest of our lives" it means you're talking about something relatively serious. I'm pretty certain that the future of the human race qualifies. When we're talking about "environmental issues" we're talking about nothing less. And that's enough to scare me.
When I talk about taking responsibility for our future, there is an illustration that I like to use. I've
stated this in several ways
on my own blog and have even found
a fantastic video
on YouTube that goes over the concept quite well. It works like this. In the end, we have only four options:
We become stewards of our environment only to find that everything would have worked out just fine regardless. We spend a lot of money needlessly, but no one is really hurt by it.
We become stewards of our environment, spend a ton of money and make sweeping changes across nearly every industry, and find that we just barely miss the tipping point of environmental collapse.
We keep doing what we're doing and hope that nothing bad happens, and we get lucky because it doesn't. We spend nothing, change nothing, and die leaving the mess for someone else to clean up.
We spend nothing, do nothing, and watch our planetary ecosystem collapse, taking our economic, political, and eventually our social systems down with it. No food, no medicine, and no government to protect us.
I like this illustration because it shows so clearly that it doesn't matter what we think of the whole global warming thing. Instead, what matters is that we take responsibility for the environment we live in and depend on. I'd rather take some responsibility and switch out a few light bulbs for CFL's than deal with the whole apocalypse thing from option four. (I think I mentioned that the apocalypse scares me.)
When we begin to look at our responsibility to the environment, we realize that "environment" is just a code word. It means something broader than recycling your newspaper. Do somebody's shopping. Or fix a child's bicycle. No one says you have to be Super Biodegradable Boy or Mega Organic Girl to fend off the apocalypse. Making the world a better place is about doing what we can. What's important is that we do it.
There's a television show that I like called Ghost Hunters. It's about a team of paranormal investigators. (Yes, I'm a geek.) One thing I'm always impressed with is how they introduce themselves. When they meet a client for the first time, as they shake hands, one investigator says, "Hi, we're TAPS." (TAPS is the name of their organization.) This is always followed by, "We're here to help." This is such a perfect example of the sort of responsibility we need to take for the world around us.
Our world won't function like it has in the past for very much longer. We can't afford the consequences of not acting. Perhaps it's time we start prefacing the decisions we make with, "We're here to help."
On Blog Action Day, it's time to ask yourself as well: "Am I here to help?"
Let's hope we are.
Mathew Murphy brings us Tech Tuesday each week. Matt blogs on technology, the environment and tea on his website at http://mattscuppa.wordpress.com.
Next Actions: